Hey Turkeys!! What is Cloudbread you might be asking….it is a light, fluffy and delicious "bread" made from cream cheese and eggs. It's a great bread sub for diabetics, perfect for anyone gluten free, great for Keto and just an easy sub for heavy buns and bread!
The Cloudbread Company asked me to play around with their Cloudies and come up with a Thanksgiving recipe and, naturally, as someone who can rarely have stuffing since it's never gluten free I said STUFFFFFFFFING! Stuffing is, in my opinion, the Thanksgiving dish that makes your kitchen smell the most like Thanksgiving. Between the sauteed carrot, celery, onion and then the classic mixture of herbs your oven will just ooze yummy Thanksgiving smells when this beauty is in the oven! The benefit to this recipe? It's not a bomb of bread that just sits in your stomach. Let's be honest, there are so many delicious things on the Thanksgiving table how nice to have a side dish that is a traditional stuffing but is so much lighter. You want to eat stuffing. You don't want to feel stuffed!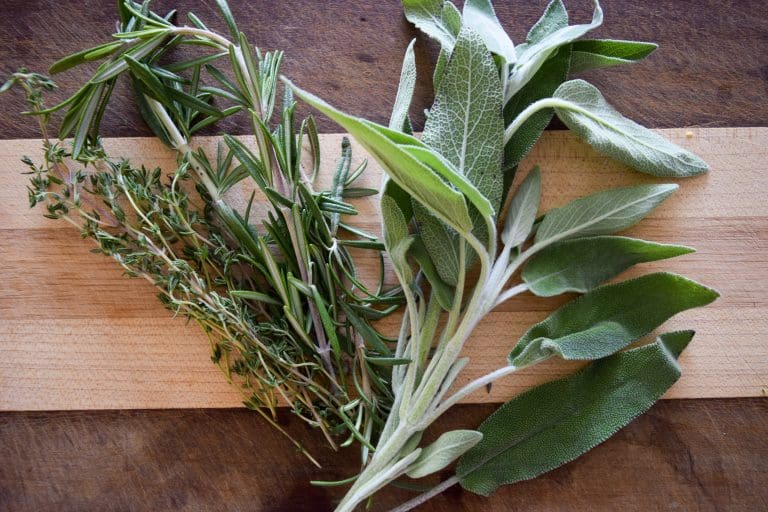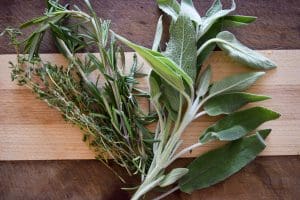 I've been making stuffing, rather baked stuffing, now for almost 25 years. We never put stuffing inside the bird, it's always been baked in a separate casserole dish. And with that there are some tricks to keeping it super moist and super delicious so it tastes just like you had it inside that turkey! One trick is to get the umami flavor that you'd normally get from the turkey itself. I love to use pancetta for that. Saute it first to draw out the flavorful fat and then you saute the vegetables in a combination of that+olive oil+butter. Add your mirepoix (carrot, celery, onion) and WHOA your kitchen smells amazing now! Add some dried cloudies, herbs and then a mixture of egg + broth! The egg helps it all stay together and the broth, of course, keeps it super moist.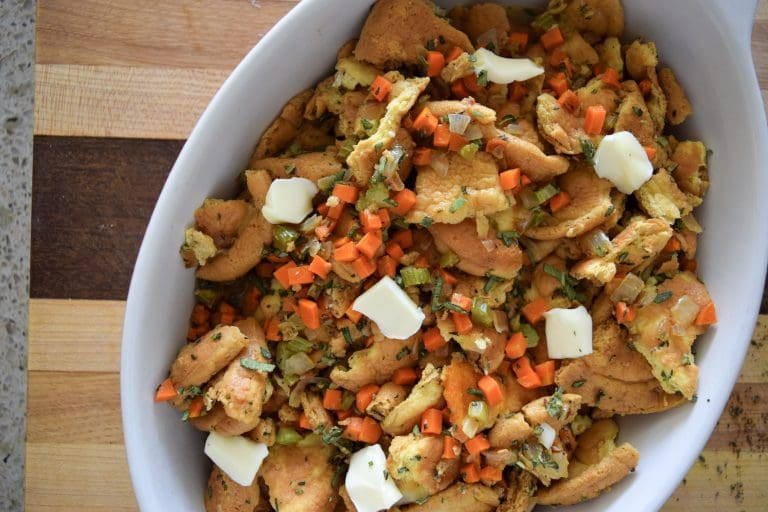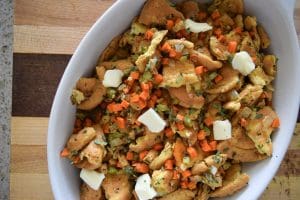 The final piece is dotting the top with pats of butter or a drizzle of olive oil, again, this is the substitute for the fat that would naturally enter the stuffing if it were inside the bird.
I'll tell you, this way is delicious, much safer AND you can do it ahead of time! This seems like a win-win to me 🙂
Happy Thanksgiving!
xo, Kendra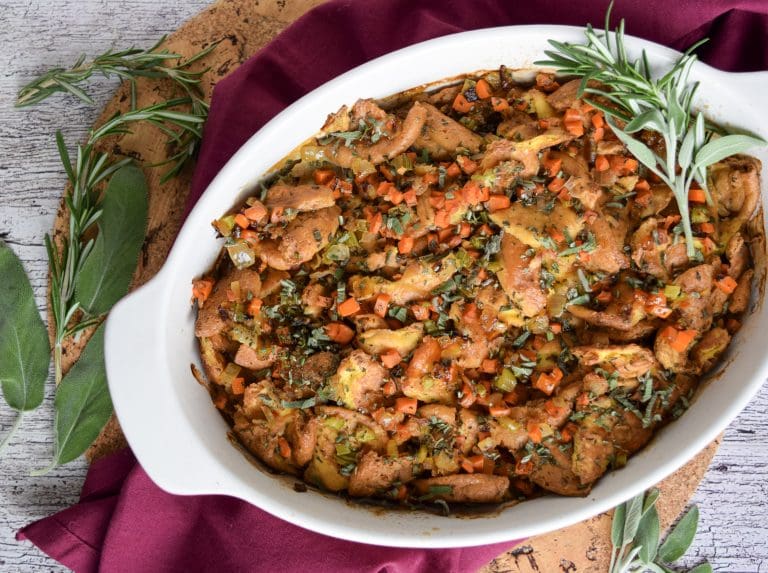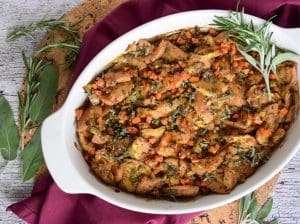 Cloudbread Pancetta and Sage Stuffing
Serves: 6-8
Prep Time: 50 minutes + drying overnight
2 Boxes Original Cloudbread
4 oz. diced pancetta (or thick cut bacon, diced)
½ large onion, finely diced (about ½ c.)
2 stalks celery, finely diced (about ½ c.)
2 carrots, finely diced (about ½ c.)
2 eggs
3 c. chicken broth
2 Tbsp. minced fresh sage
2 Tbsp. minced fresh thyme
2 Tbsp. minced fresh rosemary
Olive oil
2 Tbsp. butter cut into 8 pieces, for dotting on top
Extra herbs for sprinkling over the top at the end
Directions
The night before you plan to make the stuffing, remove the Cloudies from their packaging and leave out on the counter to begin drying.
When ready to prepare, preheat oven to 300. Lay cookie cooling racks inside rimmed baking sheets. Tear the cloudies into about 6-8 pieces per Cloudie and place on the racks. Bake at 300 degrees for 40-50 minutes until crispy and dry. Remove from oven and turn the temperature to 375.
Meanwhile, add the diced pancetta to a pan and place on the stove. Turn heat to medium and cook 8-9 minutes, stirring until golden brown and fat is rendered. Use a slotted spoon to remove the pieces of pancetta and place on paper towel. Leave the rendered fat in the pan.
Add 1-2 Tbsp. of olive oil to the pan. Add the diced onion, celery and carrots and a pinch of salt (about 1 tsp.) to the pan and saute until soft, about 10 minutes.
Remove from heat and add the minced sage, thyme and rosemary. Stir to mix.
Add the chicken broth to a small saucepan and warm until simmering.
When ready to assemble: add the 2 eggs to a large mixing bowl and whisk. Add the sauteed veggies and then slowly pour the warm broth into the eggs, stirring the entire time.
Add the dried Cloudies pieces and gently stir to combine with the egg mixture and the vegetables. Let this all sit for about 10-15 minutes for the liquid to absorb.
Pour into a greased 3 qt. baking dish and  top with the 8 pieces of butter. Cover with foil and bake at 375 for 40 minutes.
Remove foil and bake another 10-15 until you get a few crispy pieces on top and around the edges.
happy foods are the best foods!