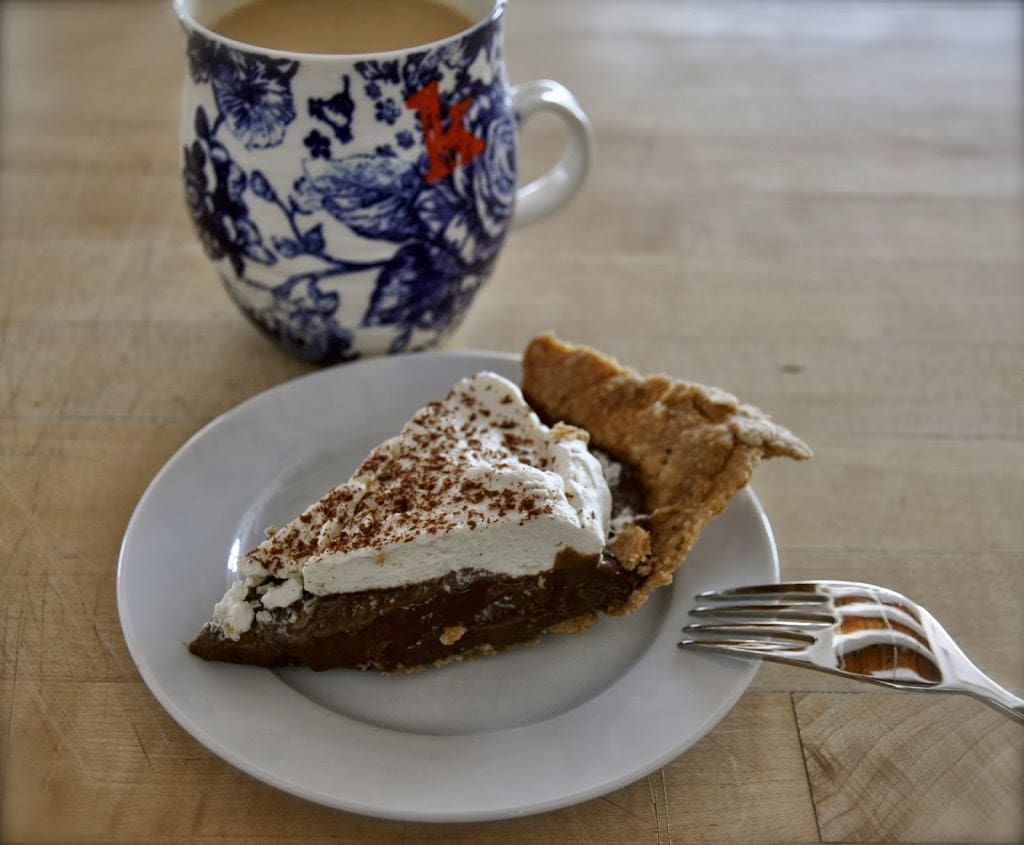 Last weekend Chicago was, once again, transformed into the inside of a snow globe. It has actually become the norm that the weather pattern here goes as such: Lots of snow one day. Sub-zero, arctic temperatures for about 2-3 days. Lots of snow, again. Sub-zero, arctic, school is cancelled because it's so cold temperatures for another 2-3 days. Lots of snow, again.
I'm not kidding! It has really been one heck of a winter, already, and it's only February! In Chicago speak that means winter isn't even halfway over yet. Oye.
So I have decided to take advantage of these cozy, sweater/fireplace weekend days and bake it up! When mother nature gives me snow, I give her back brownies or cookies or in today's case……chocolate cream pie. Sometimes it's just what you are craving, know what I mean? And what could be better than snuggling up on the couch with your loved ones, a big piece of chocolate cream pie, fireplace raging and the perfect movie on the tv? Tell me, can you think of anything?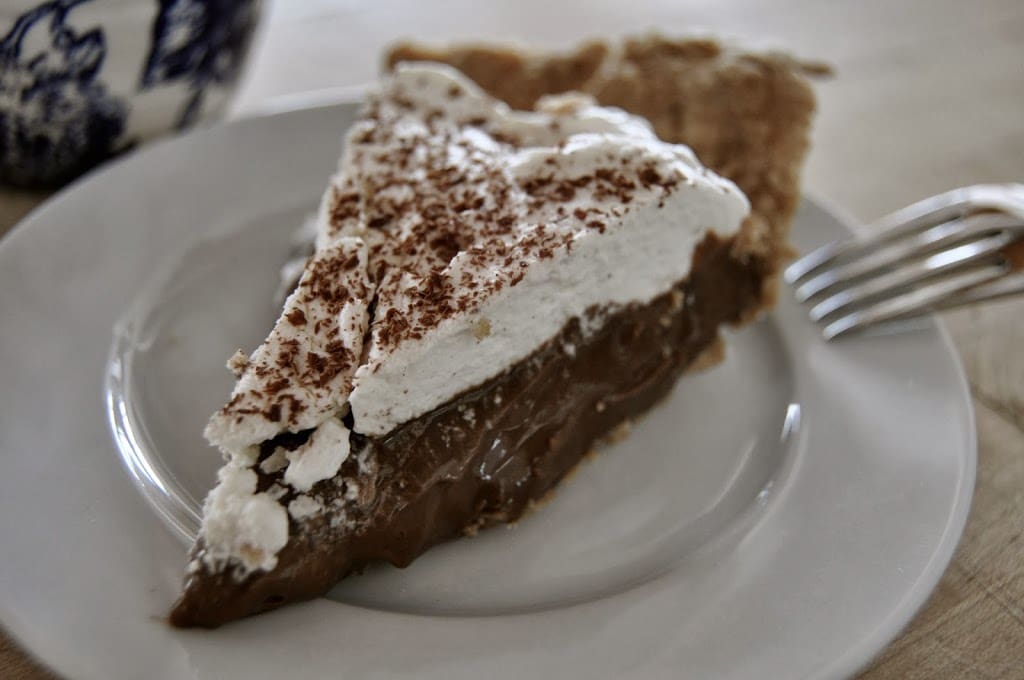 Gluten Free, Soy Free, Peanut Free, Tree nut Free
Crust
·
2 oz. finely ground oat flour
·
1 oz. teff or buckwheat flour
·
4 oz. butter, chilled and finely diced
·
4 oz. shortening, chilled and diced
Chocolate Cream Filling
·
4 oz. dark chocolate, chopped
Whipped Cream Top
·
1 c. heavy whipping cream, chilled
·
3-4 T. sifted powdered sugar
DIRECTIONS
1.
First, Prepare the Crust.
Add the dry ingredients to the bowl of a food processor and pulse to mix. Add the chilled butter and shortening and pulse until it reaches the texture of sand. Slowly add the water until it all comes together.
2.
Pour out onto a floured board and knead gently with your hands just a few times to bring it all together into a smooth ball. Split in two, shape into a disk, wrap with plastic and place in the refrigerator for 2-3 hours.
3.
Roll out thinly until it is a large enough circle to fit into an 11 or 12-inch pie plate. Lay in the pie plate snugly. Using a fork, prick a few holes in the bottom and the sides of the unbaked pie crust then crumple a piece of parchment and gently lay on top of the crust. Fill either with uncooked, dry beans or uncooked dry rice and bake for 20 minutes. Remove the parchment and beans/rice and bake another 10 minutes until the crust is lightly browned and looks pretty dry. Remove from oven to cool.
4.
Second, Prepare the Chocolate Cream Filling.
Bring the milk to high simmer. In a medium bowl, using a hand mixer, whip together the egg yolks, whole egg and ½ c. of the sugar until light and fluffy.
1.
Pour in the tapioca starch, cocoa powder and remaining ½ c. sugar and mix just to combine. Add to the simmering milk and whisk constantly until mixture is nice and thick.
2.
Remove from heat and whisk in the unsalted butter, chopped chocolate and espresso powder. Cool to room temperature.
3. Third, Prepare the Whipped Cream Topping. In a cold metal bowl, whip the heavy cream with a hand mixer until you have soft peaks. Sprinkle the powdered sugar over the top and mix until just combined (you don't want stiff peaks- light, fluffy and soft!).
4.
Assemble the Pie.
Pour the chocolate cream filling to cover the crust in the pie plate. Gently spread with the fresh whipped cream. Add some chocolate shavings if you would like for garnish and then-DEVOUR!
hHappy, healthy eating! ~kendra