I have been playing a lot with cauliflower in kitchen as of late. It is such a versatile and nutritious vegetable and it makes me so happy that so many people are discovering the wonderful ways to incorporate it into your diet that doesn't involved steaming it!
My all time favorite way to eat cauliflower is to roast it with a healthy dose of olive oil, salt and pepper and cook it until it is lightly golden around the edges. Mmmmmm. In addition to that, I love to add cauliflower puree to my mashed potatoes and also to my cheese béchamel that I mix with noodles for my homemade mac and cheese. Nobody ever knows!
But my latest way to add cauliflower to things is to chop it until it looks like rice and add it to a salad in lieu of couscous, rice or bulgur. You can also sauté it lightly and add to warm dishes like cooked rice would lend itself but with the warmer days (hopefully) approaching, I thought using it raw would be a splendid idea! I hope you enjoy the below recipe as much as I do. It is bright and refreshing with plenty of herbs and lemon to brighten up your day!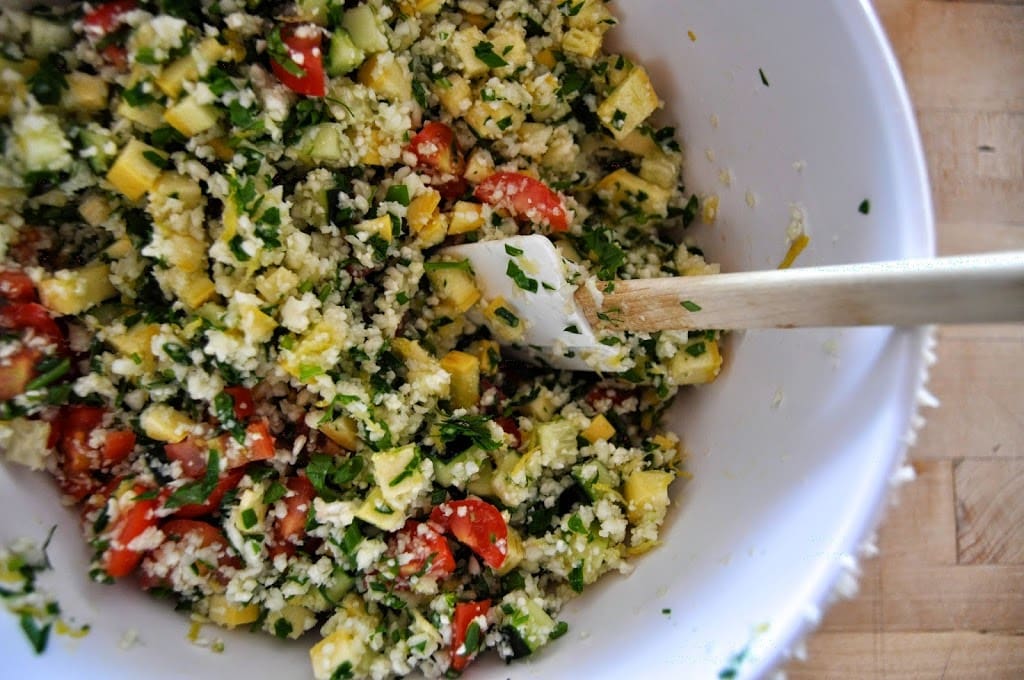 Cauliflower Tabbouleh Salad
Vegan, raw, gluten free, dairy free
Serves 8 as a side
·
1 head cauliflower, broken into florets
·
½ c. finely minced parsley
·
½ c. finely minced chive
·
zest and juice from 2 lemons
·
4-5 T. good quality olive oil
·
salt and pepper, to taste
DIRECTIONS
1.
Put the florets of cauliflower in the bowl of a food processor and pulse until it resembles small pieces of rice.
Be careful not to process too much or else you will end up with cauliflower mush!
2.
Scrape the cauliflower "rice" into a medium bowl and sprinkle with 1 T. sea salt. Stir to mix and let it rest of the counter for about 30 minutes.
3.
In the meantime, dice the cucumber, dice the yellow squash and quarter the cherry tomatoes.
Place them in a large bowl. Add the minced parsley, chive, zest and juice from the lemons.
4.
Carefully scrape the cauliflower onto a few layered sheets of paper towels and cover with a few more layers. Press down to squeeze the water out of the cauliflower. Pour this pressed cauliflower "rice" into the bowl with the diced cucumber and tomato and mix to combine. Add the olive oil and stir again. Taste and season with salt, pepper and more olive oil as needed.
happy, healthy eating! ~kendra