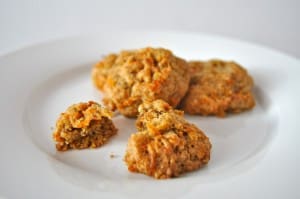 The baking spirit is alive inside me. Once Thanksgiving passes I get all Martha Stewart with my selection of baked goods (it's not even December people and I've baked upwards of 25 dozen cookies. Totes insane.)
Now, while I preach to my readers, clients, friends and family is to eat whole foods. Avoid those processed flours and really try to just eat in a more pure fashion. But once the holidays hit all I want to do is bake! And this year has been about creating new recipes and baking from some wonderful recipes I have torn out of magazines or dogeared in a cookbook throughout the year. I especially love to create a cookie that is more nutritious than just sugar and butter, a cookie that includes vegetables and is delicious. That way I don't feel so guilty about eating it and neither should you!!
Actually, this cookie was created for a client who is very picky about vegetables. He always manages to eat the meat and some of the carbohydrate I make him and eat right around those vibrant and nutritious beauties. So, I have to find a way to sneak vegetables into other things that I know he will eat. Cookies, brownies, muffins, quick breads, and biscuits. Oh yes, they all include grated/shaved/pureed vegetables and fruits. So funny this little sneak attack.
So, below, my dearest readers you get the benefit of said recipe creation! And these sunset flecked cookies will satisfy your sweet tooth and bring a little healthiness to your dessert plate.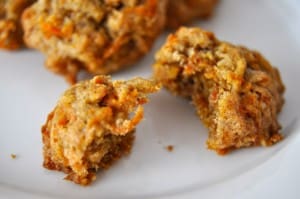 Carrot Cake Cookies
½ c. unsalted butter, melted
½ c. packed light brown sugar
¼ c. organic cane sugar
1 large egg, lightly whisked
¼ c. sorghum flour
¼ c. brown rice flour
¼ c. amaranth flour
½ tsp. xanthan gum
1 t. ground ginger
½ t. fine salt
1/3 c. quinoa flakes
½ c. gluten free rolled oats
¾ c. packed, finely grated peeled carrots
1 T. grated fresh ginger
DIRECTIONS
Heat oven to 350. Line two rimmed baking sheets with parchment paper and set aside.
With a wooden spoon, mix together the butter, brown sugar, cane sugar and egg. In another bowl mix together the sorghum flour, brown rice flour, amaranth flour xanthan gum, ground ginger and sea salt. Add to the bowl with the butter and sugar mixture and stir until combined.
Add in the quinoa flakes, rolled oats, carrots and fresh ginger, stir until just combined.
Using a tablespoon, scoop out the dough onto the prepared parchment lined sheets. Bake for 12-14 minutes until lightly browned and slightly springy to the touch. Move cookies onto a wire rack to cool.
happy, healthy eating! ~kendra