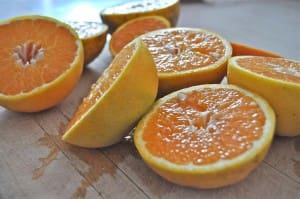 With the chilly winter nearing I always find I need a little pick me up. Something to brighten my spirits, something to refresh my palate and bring me back to convincing myself, "this cloudy, dreary weather isn't so bad afterall!"
Now, you might think I am going to post some delicious recipe, some lemony delight. But, oh no darlings, today's post is about alcohol. Ha!! Well, truth be told I have a glass of wine almost every night and I love to cozy up with my main squeeze + glass of red wine in front of our fireplace any night. But sometimes you want a little libation, a spirit of sorts. And for that I turn to one of my favorites, Campari.
Oh yes, that fiery-orange colored liquor that loves its prominent place on our liquor shelf. And winter is actually a fantastic time to highlight this Italian delight since my favorite thing to mix it with is a wintery seasonal fruit, oranges! Campari and orange juice (sometimes grapefruit, too!) is one of my favorite combinations for a brunch cocktail, a party cocktail or-as mentioned above-a little winter pick me up. Now, I use an electric citrus press which does make the work of juicing the oranges a bit quicker. But when I've made these at friends houses I just get them all to help me squeeze the juicy halves of oranges into a pitcher and it makes quick work, plus who doesn't like to get their hands a little dirty in the kitchen?!