I'm sure you are sick of reading about the weather on my blogs, right? Well, I'm sick of it too! Mother Nature just won't let up on the badness here in Chicago. Lucky enough, one of my beautiful girlfriends celebrated her 50th birthday in Cabo San Lucas, Mexico last weekend and I tagged along. It was unbelievable to feel heat and warmth from the sun, not to mention how great it was to wear tank tops and flip flops!
Well, back in rainy cold Chicago I am and the weather is relentless. Yesterday was a high of 45 and tomorrow a high of 50. Glorious. But in response to this crummy weather that seems to be taking over the entire middle of the country I thought I would post one of my favorite ways to eat chicken. It couldn't be easier to make and you can always switch it up to vary the flavor. Use a splat of tomato paste and white wine plus rosemary or add a bouquet garni instead of thyme. However you would like to be creative, try it out!
In the meantime, bundle up, light the fire and whip up a delicious batch of these braised chicken legs….until summer comes (when??!!).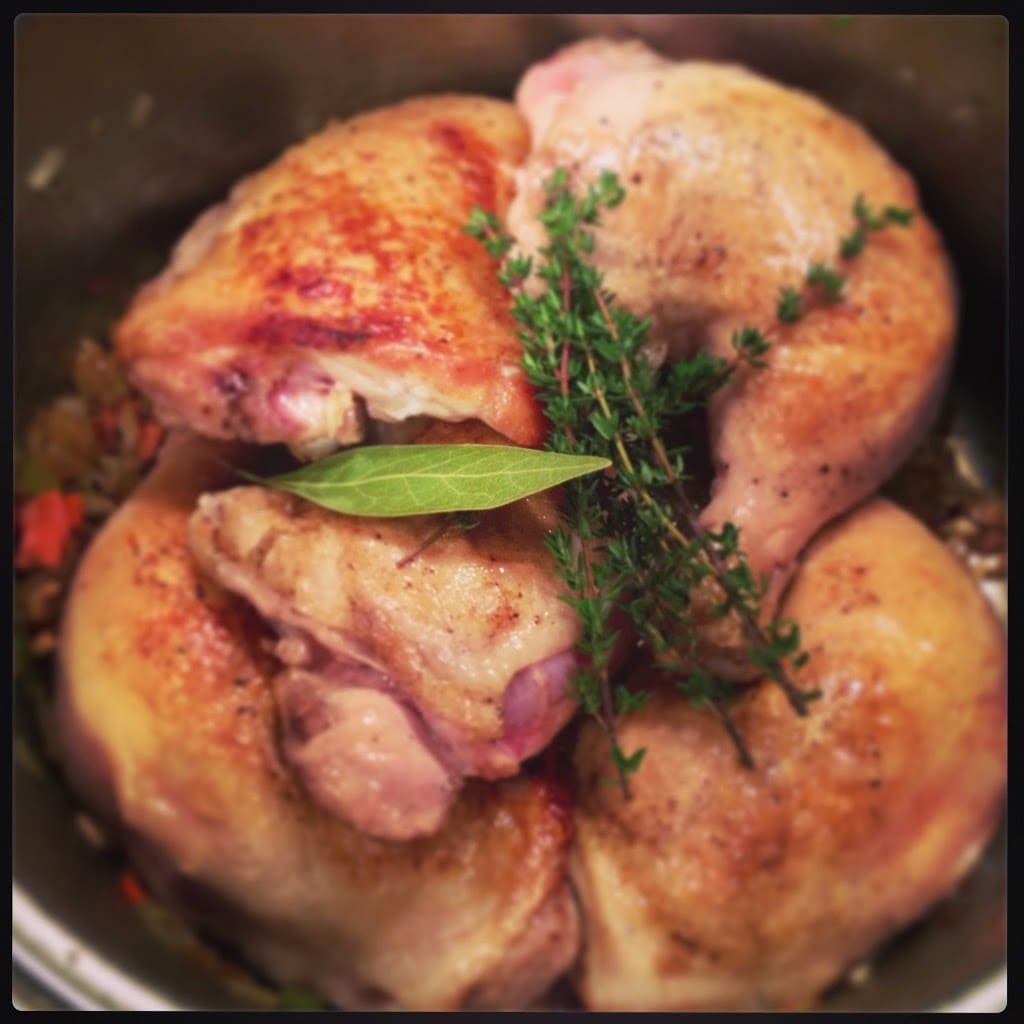 Basic Braised Chicken Legs
Gluten free
Serves 4-5
3 T. olive oil
6-8 whole chicken legs
¼ c. your favorite gluten free flour (I usually use brown rice or sorghum)
2 carrots, finely diced
2 stalks celery, finely diced
8 medium shallots, peeled and diced
6 cloves garlic, peeled
8 thyme sprigs
1 bay leaf
handful of parsley
1 c. red wine
water
2 bouillon cubes, preferably Rapunzel
2 T. unsalted butter
Roasted Carrots and Potatoes, for serving
DIRECTIONS
Heat a large, oven safe dutch oven (Le Creuset would be perfect!) over medium. Add the olive oil and warm slightly.
Coat the chicken legs with the gluten free flour and, working in batches, brown on both sides. Remove to a plate.
Add the shallots, carrots, celery and garlic to the same pan and gently sauté for 6-7 minutes until they begin to take on some color. Add the thyme sprigs, bay leaf and pour the red wine over while scraping up any bits that may have stuck to the bottom of the pot. Reduce for 2-3 minutes.
Place the chicken into the pan and turn to coat with the wine. Add the bouillon cubes and then cover with water. Bring to a boil then turn off the heat and place the lid on. Put pot in the oven at 325 for about 40-50 minutes or until chicken is tender.
Remove from the oven and place pan on the stove. Remove chicken from the pan and set off to the side, covered with foil to keep warm. Meanwhile, turn heat up to high to bring liquid to a boil. Reduce the braising liquid by about half.

Remove the thyme and bay leaf. Carefully pour the braising liquid into a blender and blend together until you have a smooth sauce.
Pour sauce back into the pot, swirl in the butter and taste for seasoning, adding salt and pepper as needed. Add the chicken back in and turn to coat with the sauce. Serve extra sauce on the side.
Happy, healthy eating! ~Kendra