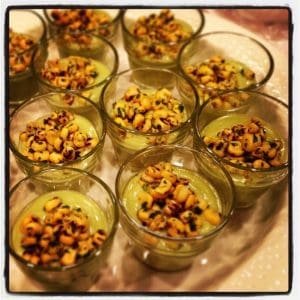 Oh, you read that right. Avocado soup….yum! Such a delicious way to get the creamy mouthfeel of avocado (not to mention the delicious fats that are so good for skin and hair!), the brightness of cilantro and lime. And it is such a lovely canvas for a myriad of toppings from queso fresco to charred corn to roasted red peppers.
The first time I served this soup was for a friend's baby shower that I catered. It was summer party and this beautiful friend is from Mexico. So, I wanted to do something comfortable in flavor to her (she literally had just moved here from Mexico!) but didn't want to compete with anything she was accustomed to enjoying at home. So, I decided we would start our baby celebration luncheon with this lovely chilled soup. And the raves came in! After that day, I have used the soup in so many different ways but most recently my favorite is to thin it out a bit more and pour into small glasses to eat as a "soup shooter." Just enough to get the luscious velvety avocado goodness. Nom, nom.
dairy free, soy free, wheat free, nut free, egg free, vegan
Serves 2-3 as a main, 5-6 as a starter
1/2 yellow onion, diced
2 T. cumin
2 avocados
1/2 orange, zested and juiced
2 limes, zested and juiced
1 c. vegetable stock
Toppings:
¼ cup sliced green onion
¼ cup cilantro
2 ears corn, charred and sliced off the cob
1 roasted red pepper, finely diced
3 T. toasted pumpkin seeds
Saute the 1/2 diced yellow onion in a tiny bit of olive oil until softened and translucent. Add some salt and the 2 T. cumin and saute another 1 minute. Add to the base of blender. Add flesh from 2 avocados with the zest and juice from the orange, zest and juice from the lime, ½ cup vegetable stock (add more if too thick). Blend 2 minutes fully, season with salt and pepper and chill for at least 2 hours. Pour into bowls and sprinkle with little bits of each of the toppings.
happy, healthy eating! ~Giggles