Chef Kendra has always had a love affair with food. From a young age she was always by her mother's side in the kitchen, whisking and tasting. In highschool her passion for food grew while she poured through cookbooks, took cooking classes and invited friends over for homemade pasta after school. She attended college at Miami of Ohio and cooked plenty of homemade dishes for roommates while receiving her degree in Nutrition and Food Science. Post college she worked for Williams-Sonoma helping open stores and curate culinary programs for stores in the Midwest. In addition to working for Williams-Sonoma, Kendra catered parties on the side, and during one of these parties was approached by what would become her first private chef client. After that day word of mouth spread and eventually Kendra gathered a loyal group of clients that allowed her to fully focus on Drizzle Kitchen.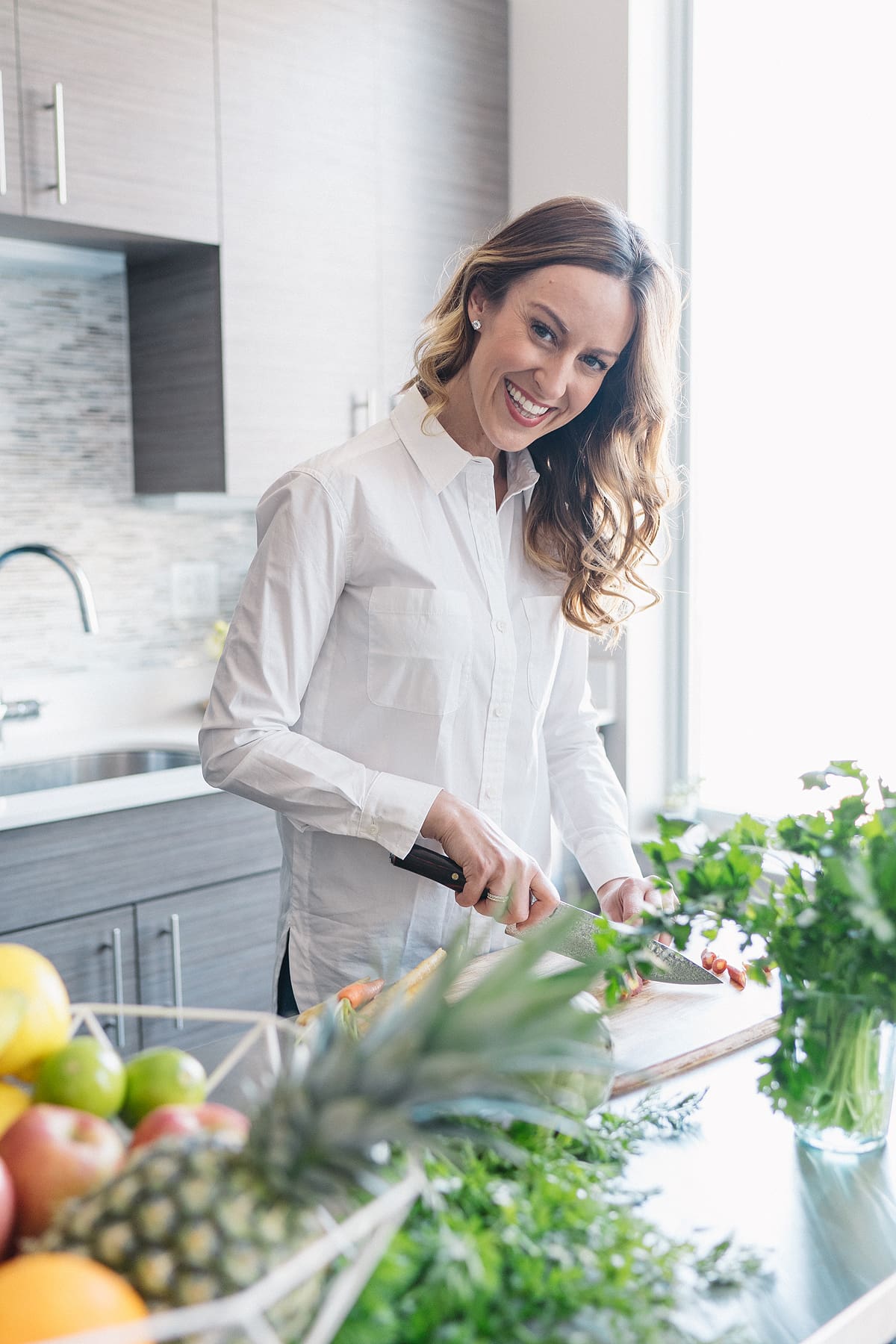 Kendra's passion for working with families that manage food allergies began after she was approached by a family with a child that had some behavioral disorders, they were hoping a shift in food and therapy would help. Dinner time was a struggle, family relations were strained and food became a chore rather than a time to bring everyone together around the table. 6 months later, with fun recipes under their belt and an appreciation for meals everyone in the family can enjoy Kendra realized food can heal. Not just your body but relationships. And after that day Kendra sought out clients that needed help rebuilding their life to be the most fulfilling and nutritious, whether it be a new food allergy diagnosis, a health crisis or just lack of time to prepare healthy meals.
Now in its 12th year, Drizzle is abuzz with a wonderful client roster that grows weekly. Drizzle has clients that manage everything from nut allergies to celiac disease to chemotherapy treatment to picky eaters and along with her team Kendra's focus is to ensure Drizzle Kitchen's clients eat food that is safe for them all while tasting delicious and being filled with nutrition; Allergy Adaptable Cuisine.
In addition to private client work, Kendra is the Consulting Chef for Enjoy Life Foods, an ambassador for Vital Proteins Collagen as well as an ambassador for the food allergy app, Spokin. Her first cookbook, Drizzle Kitchen Favorites, is available on Amazon and her most recent book, Clean It Up!, is available for digital download on the website. To make sure she is connected with her audience she has a YouTube Channel where she demonstrates recipes and gives plenty of tips and tricks for a happy food life. She has written articles for Shape Magazine and her recipes have been featured in multiple gluten free magazines. She is also frequently on WGN, CBS and NBC in Chicago talking about her favorite tips and tricks!
SaveSave