Power Bites
---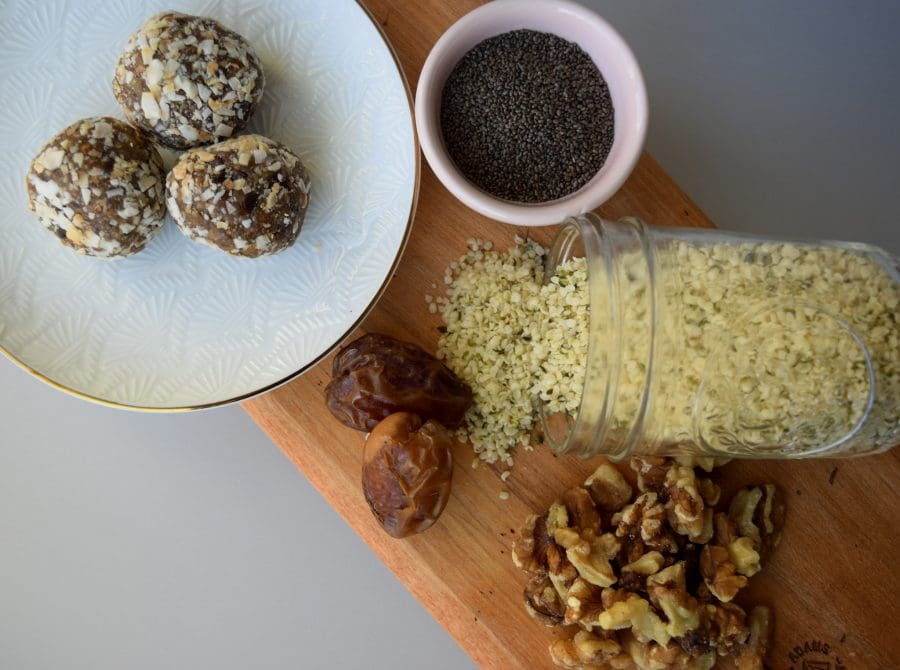 Weekdays are tough. You are running around, rushing to get to work/rushing to get the kids to school/rushing to get to that workout class/rushing around because, well, life. And one of the things I hear the most from my clients is, "I just didn't have time to eat. Let alone eat healthy."  Well, my lovely people, that is the wrong answer. You do have time to eat healthy. But it requires preparation. It requires a little bit of thought.
I myself fall into this trap! The countless mornings that I have run to Whole Foods to shop for a client and haven't had anything but a coffee myself, countless. But let me tell you, I don't feel great. I also don't make great food choices. I'll grab whatever I can shove in my face while running between the aisles or driving or answering emails. Holy moly, what is wrong with us that we can't even take a second to eat some food? The thing that we all seem to love so much?
So my answer…the Power Bite. (1) It is made of deliciously healthy superfoods. (2) Kids love it. (3) It is packed with healthy fats, omega 3 fatty acids and MCTs (Medium Chain Triglycerides) which sound like a crazy long name of something you shouldn't be eating when in reality they're a specific form of fats that are used as energy rather than stored as fat….um, yes please. (4) It's easy to pack in a lunch, in your purse, in your carry on luggage. (5) Did I mention it's delish? (6) It all comes together in one machine: Food Processor.
With just a smidge or preparation you can have these gorgeous little bites at your fingertips. You can even make a double batch and freeze them. Because, after all, you never know when you'll need a little boost of POWER!

Power Bites
Makes about 20 2-bite balls
1 ¼ c. whole almonds, roasted and salted
1 ¾ c. walnuts, raw
½ c. whole oats
4 Medjool dates, pitted
1 banana
3 T. coconut manna
6 T. maple syrup
2 T. chia seeds
1 T. hemp seeds
1 t. vanilla extract
½ t. ground cinnamon
½ c. mini chocolate chips
optional add-ins: ashwagandha powder, reishi powder, collagen, tocotrienols
Directions
Line a baking sheet with parchment paper and set aside.
Place everything except the mini chocolate chips in the bowl of a food processor and blend*, scraping down sides occasionally, until everything is mixed together and you have a well blended mixture (add in any optionals if you are adding those now).
Scrape into a bowl and mix in the mini chocolate chips by hand.
Form into the size of a golf ball and roll. Place on parchment lined sheet and place in refrigerator to harden for about an hour.
Pop into a resealable container and keep in the refrigerator for handy snacking!
*If you have a food processor that isn't relatively new I would recommend blending this in two additions. It will make your life easier….it will blend better, be more uniform and be easier to scoop out!
Happy Eating, Loves!
~Kendra