Tomato-Pesto Socca Bites
---
The past few weeks in our house has contained at least one meal per day that consisted of tomatoes. From fresh pomodoro sauce to classic caprese salad to roasted tomatoes tossed into white beans with Italian sausage they all have tasted delicious. That's because it's FINALLY tomato season….I literally wait all year for this. When I first see tomatoes at the farmers market I get so excited, but since that is usually in June I force myself to remember that they won't taste the way I truly want them to.
Fast forward to August and the most recent farmers market trip where I purchased $30 worth of tomatoes. Whoops. Or YAY FOR ME!!! It was amazing. We would pop tomatoes like candy as a snack because, by the way, there are varieties that taste sweeter than a gumball. I would slice them and place atop whipped feta, drizzle with olive oil and then sprinkle with salt. Any way you could prepare it, we were eating the tomatoes that way.
We also had some friends over for an impromptu cocktail hour. These friends are both vegan and gluten free and I wanted to give them something other than a bowl of toasted nuts. So, aside from some crudite and a whipped eggplant dip I remembered one of my all time favorite appetizers: Tomato-Pesto Socca Bites. These little nuggets are delicious and adaptable to so many different food allergies and preferences! The little pancake base is made simply with chickpea flour, olive oil, whatever spices you would like and water. The top is either a halved or roasted tomato, your favorite pesto combination (vegan mint-lemon-pistachio, classic basil-pine nut-parm, pumpkin seed-cilantro-cumin) and a yogurt or cheese if you desire. It's a fun recipe to get creative with and our friends adored this happy appetizer they could both safely enjoy!
I always keep chickpea flour on hand because this is  the perfect thing to whip together with whatever you have in your fridge. A great appetizer to soak up these last few weeks of summer with!
~Happy Eating! xo, Kendra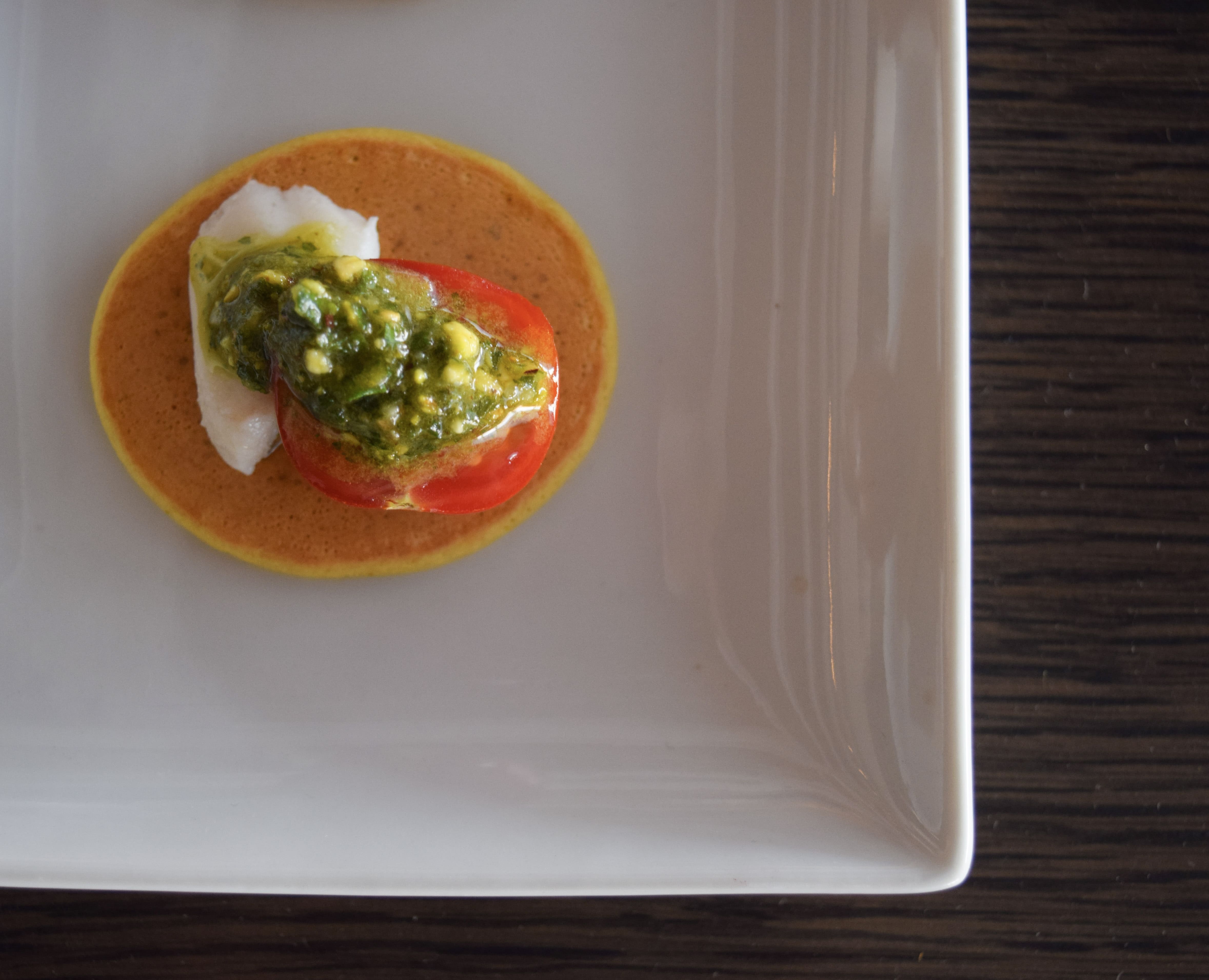 Tomato-Pesto Socca Bites
Gluten Free and Allergy Adaptable
Socca
1 cup chickpea flour
1/2 c.-2/3 c. water
2 T. olive oil
1/2 t. garlic powder
1 t. sea salt
1 t. dried oregano
Topping
1 pint halved grape tomatoes OR roasted whole grape tomatoes- to roast simply toss with olive oil and sea salt and pop in 400 degree oven for 20 minutes on parchment lined tray
1 c. packed basil leaves
1/4 c. toasted pine nuts (nut free: substitute toasted pumpkin seeds)
2 T. grated parmigiana cheese (vegan: omit and add 1 t. nutritional yeast)
1 clove peeled garlic
1/4 c.-1/3 c. olive oil
1/2 t. sea salt, add more to taste
Other topping options: fresh basil leaves, shaved parmigiana, vegan mozzarella, almond milk vegan ricotta
Directions:
In a small bowl whisk together the socca ingredients, starting with just the 1/2 c. water and adding more if your batter is too thick (it should be like loose pancake batter). Set aside.
If you are planning to roast your tomatoes do that now.
Prepare your pesto by adding all the ingredients to the bowl of a small food processor. Pulse until you have a well mixed pesto, not to chunky and not to liquidy.
Warm a nonstick flat pan over medium heat and brush lightly with olive oil. Use a tablespoon to pour out batter onto the pan into bite size mini pancakes. Cook about 1 minute until done on one side, flip and continue until lightly browned on the other side (about another 30 seconds).
Assemble with your toppings of choice and a dollop of pesto.
SaveSave
SaveSave