Grilled Beet Salad
---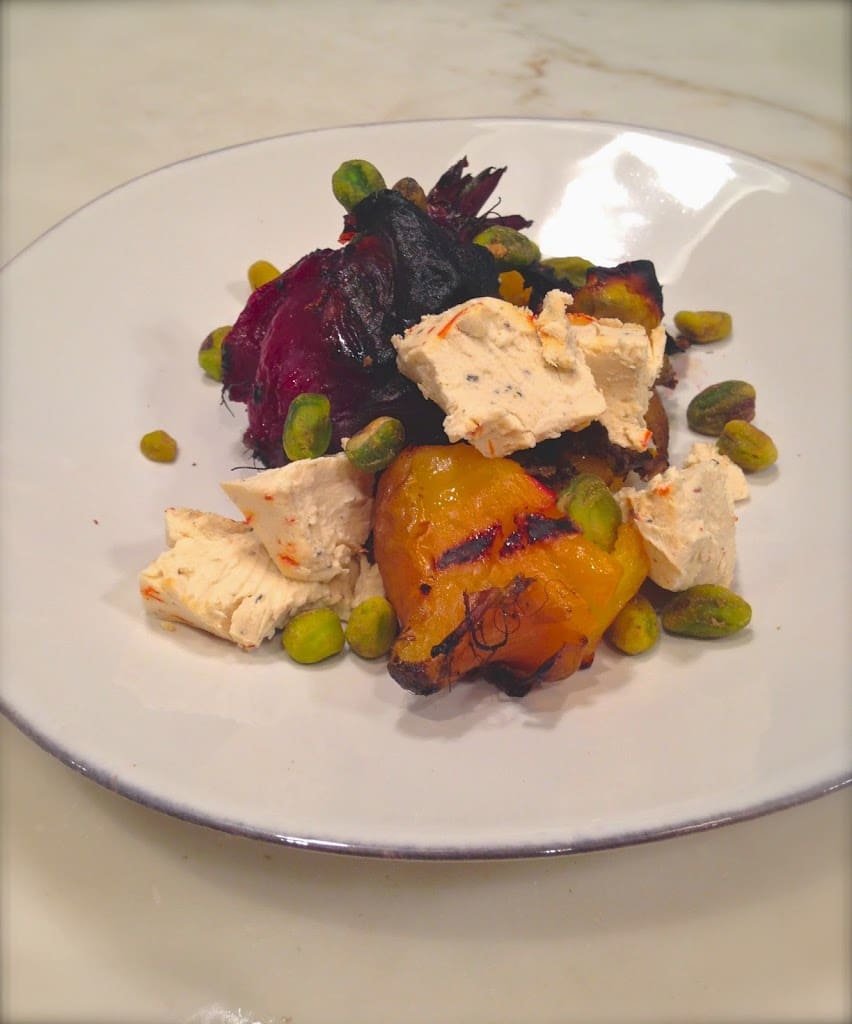 When I prepare dinner for many of the families I work with, the parents usually like a little something sassier or spicier or more adventurous than the kids will eat. For example, if I do steamed green beans as one of the sides I will then usually add something like sautéed shallots with sprouted walnuts and harissa to the portion for the mother and father. Things like that. This way, if the kiddos want to try it they can, but they also have the safety of their own vegetables without the additions.
And that is exactly how this recipe came to be. I was grilling some steak for a family I work with along with asparagus, carrots and some corn. But these parents love beets and seeing as the grill was already going to be on I thought, why not throw some cooked beets on the grill?! So I did. And then sassed it up with some goat cheese, toasted pistachios and a little vinaigrette. As you can see the ingredient list is short and feel free to play around with this. Great variations would be torn burrata and a drizzle of pesto or even a cashew cream and toasted pumpkin seeds for a dairy free variety. Yum! So, be creative. Start with the grilled beets and then add whatever you might have in your fridge just think creamy and then crunchy additions as they will nicely compliment the texture of the vegetables. Use your imagination to create a new version of this salad, I guarantee you can't beet it.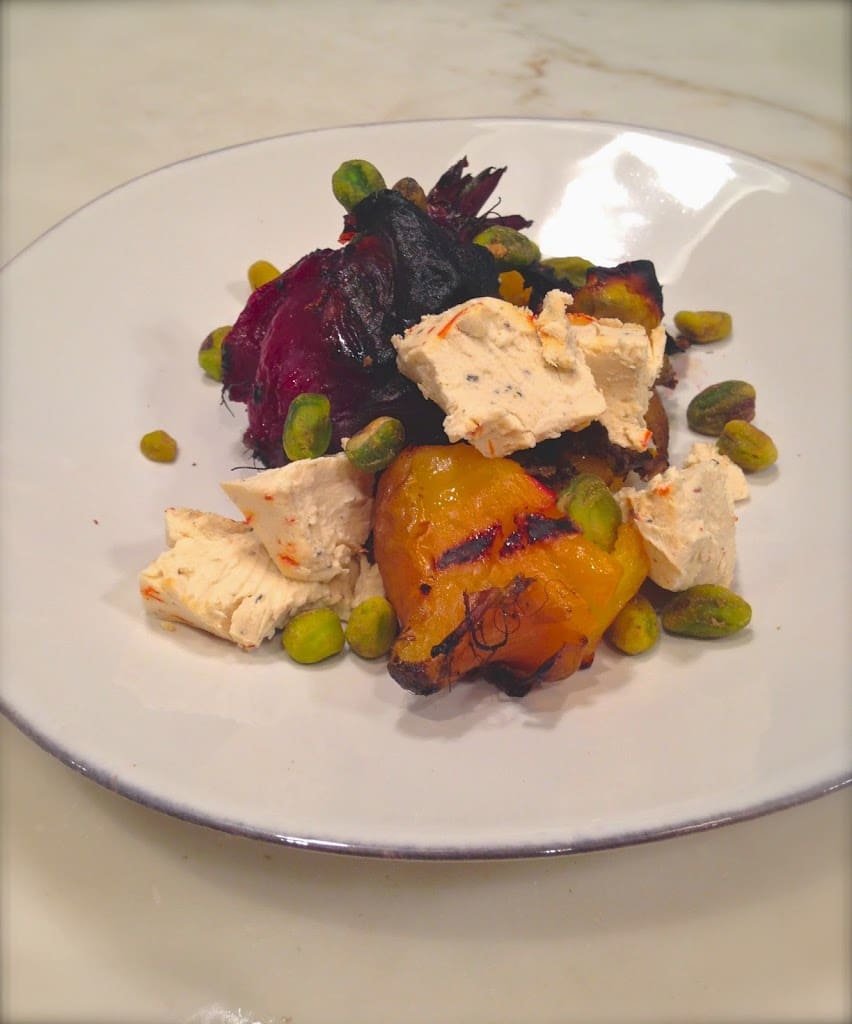 Gluten Free
·
12 medium size beets, mixture of golden and red
·
1/3 c. toasted pistachios
·
3 T. white balsamic vinegar
·
1/3 c. good quality olive oil
·
few pinches of minced fresh mint leaves
1.
Preheat oven to 350. Lay out three sheets of foil.
2.
Scrub the beets well and prick all over with the tip of a sharp paring knife. Place in the middle of the foil, drizzle lightly with olive oil and sprinkle with salt and pepper. Place on a tray and pop in the oven for 40-50 minutes or until tender. Meanwhile, preheat the grill to medium.
3.
Remove from the oven and cool long enough to handle. Peel the outside skin away with the blade of a paring knife. Place back on the sheet tray and very gently crush with the underside of a glass or measuring cup.
4.
Brush lightly with olive oil and place on grill grates until you get nice grill marks on each side.
5.
Whisk together the balsamic vinegar and olive oil. Season with salt and pepper.
6.
Place beets onto a plate, dot with flecks of goat cheese, some of the toasted pistachios and a nice drizzling of the dressing (you should use all the dressing). Finish with a garnish of fresh minced mint leaves, if desired.