Hello from Chef Kendra!  I am so excited to share with you my new cookbook,
Drizzle Kitchen Favorites: Happy Foods for Every Body and Every Allergy.
And now available in print on Amazon.com!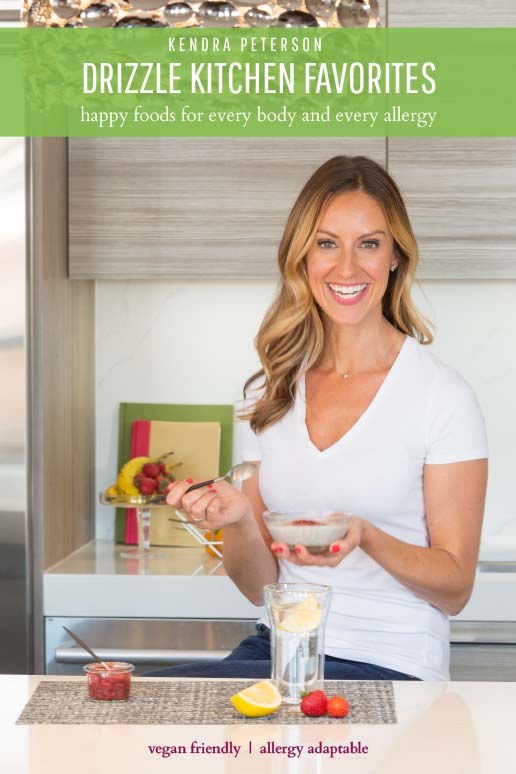 This book contains some of my clients very favorite recipes, many of which we make on a weekly basis for them. The book is perfect for anyone looking for:
healthy recipes made with nutritiously dense foods
vegan recipes
allergy adaptable recipes, all recipes have instructions on how to prepare free of the top-8 food allergens
recipes that can be made ahead of time
deliciously happy food
Inside you can find recipes like these tasty gems~
I wanted to share some of my favorite recipes that anyone could use, especially those with food allergies. Why be limited to a book that is free of 8 things when you only have an allergy to one? Or one that is all paleo when you just need it to be gluten and dairy free? Inside you will find some of our most popular recipes, all of which are naturally gluten free, in addition I added substitutions for every ingredient that is considered a top-8 food allergen. It's a completely customizable book that I hope you cook from and love as much as I do.
Happy, healthy eating! xo, kendra
Order The Drizzle Kitchen Favorites Cookbook!
Order and Download the Digital Version Below
*Please note: Book downloads best on a computer rather than mobile. Once you purchase via paypal it will  open immediately, opening up in a new browser. Please save to your computer at that point.
Secure one time payment. Instant Download.
SaveSave
SaveSave