We had some impromptu guests over last night for dinner, which I love. People who just pop over with a bottle of wine, no need to be fancy, a last minute "you cook whatever and we'll bring the wine" type of dinner is right up my alley.
These particular friends are fascinating. The wife is from Turkey, husband from Italy, they speak Turkish, Italian, French, Spanish, English. They travel all over the world, they have their own highly successful design company and I'm sure their greatest accomplishment is their beautiful 9 year old daughter who is such a delight to be around.
These are easy friends to spend time with, easy friends to converse with and we so enjoy their company whether at home, at a professional event or at a restaurant. Now, it just so happens that their daughter has a severe tree nut and peanut allergy. So when they come over I am sure to prevent any type of cross contamination (I mean, this is what I do for a living so it's good to be tested at home with more than just peanuts and wheat!). And since it's fall, I needed a quick dessert and I wanted to bake something I decided to dig in my archives of Enjoy Life Recipes (I work with this incredible company and provide them with recipes for their web content) for a delicious, cinnamon flecked, apple filled goodie-Cinnamon Roll Apple Crisp. And because all the recipes I write for them are free from the top 8 food allergens (wheat, peanuts and tree-nuts being 3 of the 8) this recipe, of course, was sure to be safe for all last night!
But even if you can eat all those things, give this recipe a shot. The flours used have a great nutrition quotient, apples are a fantastic fruit to bake with, and it's scaled down to make just two servings-give it a shot! I bet with a scoop of some vanilla bean gelato you will be just as happy of a camper as we all were (it does help if you can also eat this bowl of deliciousness in front of the fireplace. For some reason it makes it taste better….).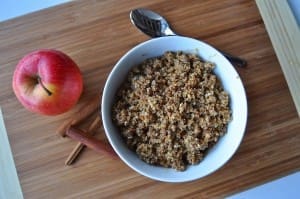 Cinnamon Roll Apple Crisp
Recipe Created for Enjoy Life Foods
Serves 2
2 large baking apples (such as pink lady)
1 t. lemon juice
1/8 t. ground cinnamon
1 T. maple syrup
¼ t. vanilla powder or vanilla extract
1 t. tapioca starch
light drizzle of olive oil or melted coconut oil
Cinnamon Roll Crumble
2 T. brown rice, teff or buckwheat flour
2 T. cane sugar
2 T. quinoa flakes
1 Enjoy Life Cinnamon Roll Decadent Bar, broken into 4-5 pieces
2 T. light olive oil, butter flavored Spectrum shortening or coconut oil
DIRECTIONS
Preheat oven to 350.
Cut the apple into 1" pieces and place in a small bowl. Add the lemon juice, ground cinnamon, cane sugar, vanilla powder and tapioca starch to the bowl and toss to coat the apples. Pour this into a small baking dish (4×4) or oven safe cereal-sized bowl.
Place the brown rice flour, cane sugar, quinoa flakes and decadent bar pieces in the bowl of a small food processor. Pulse until you have coarse crumbs. Add the 2 T. shortening and pulse to combine until your mixture looks like wet sand. Pour evenly over the apples.
Cover the bowl or baking dish with foil and place on a sheet tray. Put tray in the oven and bake for 30 minutes covered. Remove foil and bake an additional 10-12 minutes until topping is lightly browned.
Happy, healthy eating! ~Giggles