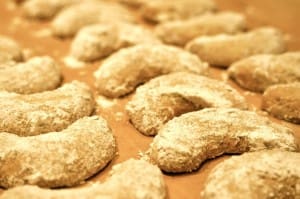 Looking for another delicious cookie to add to your arsenal for Monday or Tuesday's Christmas festivities? Let me tell you, this is a new cookie I am adding to my repertoire for every year. It is delicious, light but still layered in flavor, beautiful and the underlying cardamom is such a delightful, perfumed surprise it will leave you satisfied but knowing you want another-very soon.
The original recipe is from Bon Appetit, but I have toyed with it and tweaked it a bit to make it Giggles approved (yes, this is my silly nickname for those of you are unfamiliar!) and gluten free. You could also make it dairy free if needed by using Spectrum's butter flavored shortening. If you
can
eat butter definitely stick with my recipe as noted below but if you can't do dairy the butter shortening will be the best runner up. And be sure to liberally dust with powdered sugar just before serving, with a nice dusting of "snow" these are sure to be some of the first to exit the cookie tray.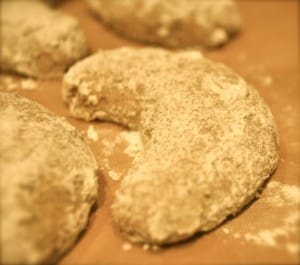 Almond-Cardamom Crescents
Gluten free, egg free
Makes 50-60
2 ½ c. gluten free flour blend (1 c. amaranth flour + ¾ c. brown rice flour + ¾ c. potato or tapioca starch)
½ t. xanthan gum
¾ t. ground cardamom
½ t. ground cinnamon, preferably Saigon
½ t. fine sea salt
½ c. powdered sugar
1 c. untoasted almonds
1 c. unsalted butter, softened
1 T. pure vanilla extract
for rolling: 1 c. powdered sugar
DIRECTIONS
1.
Line 2 cookie sheets with parchment paper and set aside. Preheat oven to 350.
2.
Mix together the gluten free flour blend, xanthan gum, ground cardamom, ground cinnamon and sea salt and set aside.
3.
Place the ½ c. powdered sugar and the 1 c. almonds in the bowl of a food processor and pulse until you have a fine, sandy mixture. Pour into the bowl of a stand mixer and add the butter to it. Mix together for 1-2 minutes to combine and blend. Add the vanilla extract, blend. Gently add the flour mixture and mix until all blended.
4.
Measure out about a rounded tablespoon at a time and then shape into a log. Curve to form into a crescent and place on the baking sheet, spacing them 1" apart. Bake for 13-14 minutes or until very lightly browned.
5.
Add the powdered sugar to a small bowl. Remove cookies from oven when cooked through and, one by one, quickly roll in the additional powdered sugar until all coated. Place on a piece of parchment to finish cooling. Continue this way with remaining dough until all baked off.
happy christmas cookie eating!! ~kendra